Disclosure: This website is independently owned and posts are written by the owners. We are a professional review website that receives products and may receive compensation from the companies whose products and/or services we review. We personally test and review these products and services; compensation has no bearing on our opinions. The opinions stated here are our own and true to our experiences. In addition, this website may contain affiliate links that could lead to compensation if clicked by users/readers.
 We Want to Grow with You & Your Baby! That's Why We Created our Newest Toys: BIG BUDDIES
***
                                  Finn + Emma—Organic, Contemporary, Whimsical & Sophisticated 
Finn + Emma's Big Buddies are the perfect companion for your toddler as they explore the great big world around them and the softest protector to snuggle with at bedtime. For big sibling–little sibling pairs, match them with the bestselling Rattle Buddies. They were hand-knit at an artisanal women's collaborative in Peru using G.O.T.S. certified organic cotton yarn.
They also make a great gift for your toddler when baby brother or sister arrives.  The matching smaller rattle buddy or mini rattle can be given to the baby!  See them all at: https://www.finnandemma.com/collections/new-products
Ramsay The Raccoon (15"- Retails for $54)
Belle The Bunny (15"- Retails for $54)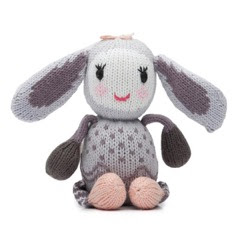 Piper The Elephant  (15"- Retails for $54)
Daisy The Zebra (15"- Retails for $54)
Zoe The Flamingo (15"- Retails for $54)
Check out Finn + Emma online at https://www.finnandemma.com/. Follow them on Instagram, Facebook, Twitter, and Pinterest.